Website
© Nick Berry
2021

Online Service from Andrew Fordyce
Sunday 28th February 2021 - Second Sunday of Lent
This stream goes with our weekly noticesheet. You can download a copy by clicking on the image on the right.
To help you follow the order of service, you can download the liturgy and song words in pdf form on our Videos page. This can be viewed on a tablet or phone during the service or printed.
If you haven't watched last week's live stream you can watch it here: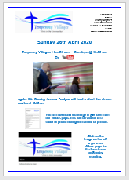 To watch previous services, please go to our YouTube channel, click here
Please note that this virtual service will not be available until 10.30 am on Sunday.